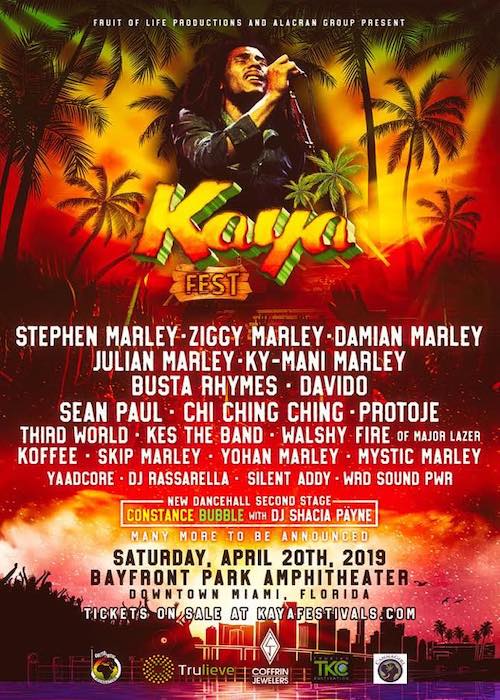 Kaya Fest
is a Music and Awareness Festival created in the spirit of Bob Marley's great legacy and curated by his son, multi-Grammy Award winning singer, songwriter and producer Stephen Marley, the festival is a historic gathering of the greatest working artists in music today, for an expression of unity and excellence.
Each year, Kaya Fest invites an incredible roster of reggae-influenced artists, including the likes of Ms. Lauryn Hill, Snoop Dogg, Cypress Hill, Pitbull, Sean Paul, and Wyclef Jean to celebrate one love, unity, peace and "overstanding" alongside supporters from all over the world.
In honor of their father's legacy Stephen Marley, Ziggy Marley, Damian Marley, Ky-Mani Marley and Julian Marley are set to perform together during Kaya Fest 2019 for a historic moment in Miami's music history.
And for the first time, Kaya Fest will feature the future of the Marley Family in Third Generation performances. This will include the talents of Skip Marley, Yohan Marley, Mystic Marley, DJ Shacia Päyne, Daniel Bambatta and many others. Kaya Fest will be showcasing the incredible talents that will be carrying the torch and entertaining fans for many years to come.
Koffee one of the hottest performers in reggae today, she feels her mission is to preserve Jamaica's roots and culture in music and to empower the youth of her generation through her musical journey across the world was added to the show.